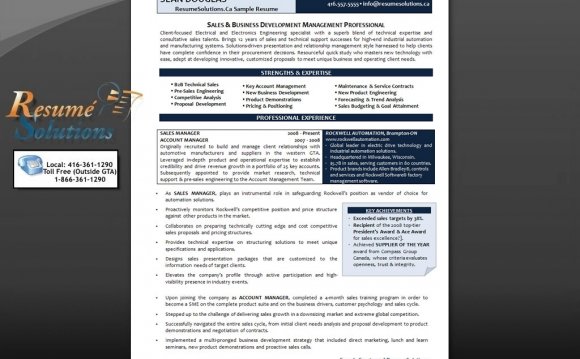 1234 Lindwood Drive
Hartford, CT 06000
Home: 860-555-5555
Cell: 860-555-5556
Email: mksmith@frontfocus.com
Objective
Business Development Manager determined to meet or exceed sales goals on a consistent basis seeking a management position in the Hartford area.
Qualifications Summary
Driven to exceed expectations and willing to work efficiently and effectively.
Successful in communicating with people at all levels and with other departments as needed to best serve the customer.
Outstanding ability to professionally and effectively deliver presentations to small and large groups.

Education
University of Connecticut, Hartford, CT
Bachelor of Science in Business Administration (May 1999)
Work Experience
Business Development Manager: December 2003 - Present, Trailridge Developments, Hartford, CT
Responsible for meeting sales goals and overall quality of service.
Conduct sales and marketing calls to book meetings with potential clients.
Send follow-up marketing materials and make follow-up monthly calls to establish relationships.
Call and personally visit potential, new and existing customers to facilitate new business.
Perform client presentations articulating the value proposition of product, solution, and service offerings.
Coordinate efforts to improve the customer experience at the point of sale.
Manage product sales growth and individual sales effectiveness by reviewing sales activity schedule.
June 1999 - December 2003, Norris & Sons, Hartford, CT
Maintained a high profile in the professional and business communities.
Skilled in coldcalling, consultative selling, negotiating contracts, forming alliances and partnering with others.
Built pricing opportunities to encourage repeat sales.
Pursued long-term account strategy that maximized profits and assisted in cultivating long-term relationships with the appropriate decision makers.
Monitored new account success by contacting customers at scheduled intervals.
Ensured customer program satisfaction.
Provided management with suggestions for improving volume, market share and price levels.
Business Development Assistant Manager:
May 1997 - June 1999, Providence Interactive, Hartford, CT
Developed and implemented plans for strategic accounts that exceeded expectations in revenue retention/growth, account profitability, and customer satisfaction.
Conducted weekly telephone call blitzes.
Identified target companies and key decision makers.
Assessed performance by location through audit reports.
Supported other promotional programs including, but not limited to: reactivation, retention, leads and knowledge based marketing programs.
Computer Skills
Proficient in Microsoft Word, Excel, PowerPoint and Access
Source: www.cvtips.com
Share this Post